BESLER Basilus - Germany - 1561 - 1629
---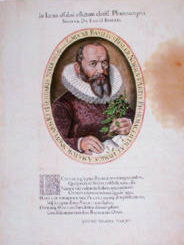 A botanist and pharmacist from Nuremberg, he spent a good part of his life caring for the garden of the Archbishopric of Eichstatt. He was commissioned to write a work describing the plants cultivated in that splendid botanical garden and dedicated all of his study to this aim. He was assisted by his physician brother and by a team of excellent German draftsmen and engravers.

Main work: Hortus Eystettensis 50 tavole originali, colorate 1613/1713 con il relativo "verso" in latino.

Botanical interests: In 1613 he published 300 splendid hand-colored specimens from the Hortus Eystettensis, an interesting herbal from the scientific point of view but especially for its artistic merits. In folio, imperial format, it contains 367 plates from copper engravings and the magisterial depiction of 1084 plants with Latin descriptions on the back. The basic division of the Hortus corresponds to the four seasons (called classes). These in turn are divided into orders and the orders contain groupings that are morphological or pertain to flowering. In the first edition we open in Winter with 7 plates and 28 plants. The Spring is more abundant with 134 plates and 454 plants and the Summer even more so with 184 plates and 505 images. We end in Autumn with 42 plates and 98 images. In the execution of the botanical images, equal weight is given to the stem, flower and roots, since even the later are most useful for identification. The Hortus came out in a few other editions with the same plates until their iniquitous destruction in Munich in 1817.
---