Escape Aboca Museum
The Queen of Antidodtes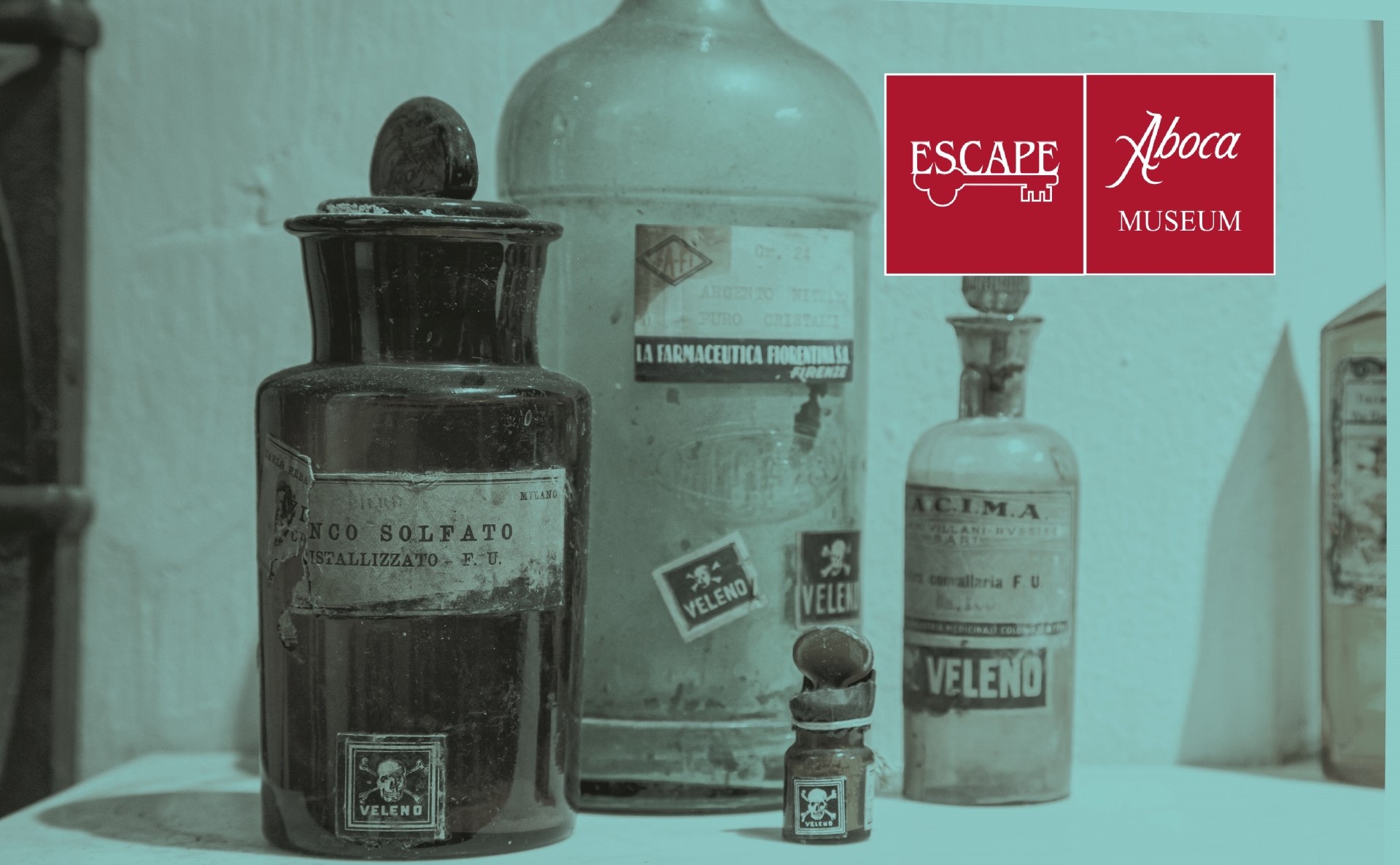 ---
...You have been lingering in the Aboca Museum for too long and didn't notice the time passing by ... until you hear a strange noise on the ground floor: the caretaker has closed the building without checking that all the visitors have left!
After a moment of panic, you try to fix the situation, but your phone has no signal and no one answers your calls...
While rummaging around for something you could use as a tool, you come across a notebook in which the caretaker has jotted down a series of codes, indecipherable clues and puzzles for you to solve. They will allow you to find the combination to the lock that will open the door and finally …. escape!
Are you looking for an activity that combines a visit to a unique museum with an intriguing game that you can play in groups, teams or individually?
Escape Aboca Museum is a fun and exciting activity, specifically adapted to the rooms of our museum and to the theme of Theriac, a mythical medicine of the past that was reputed to cure all ills.
This activity is designed for adults and can be enjoyed individually or in groups, e.g. by families with children aged 10 and over or by small groups of friends, with a maximum of 4 participants. It is a great, fun way to spend time with the family or celebrate special occasions such as birthdays and anniversaries.
The aim of the adventure is to stimulate your brain, intuition, logic and, last but not least, team building skills: cooperation between all participants is vital in solving the puzzles and successfully completing the game. The key? Keen observation, lots of curiosity and the desire to have fun.
How can I take part?
You can enjoy the activity individually or in small groups of up to 4 people and it does not need to be booked in advance. You will be admitted to the Aboca Museum with a reduced-price ticket of €4.00 (except for children under ten years of age, who will be admitted free of charge) and you will be asked to buy a notebook to take part in the activity.
Each notebook costs €12.00 and can be used by up to 4 people.
The activity usually takes around 90 minutes to 2 hours.
Did you know that the Aboca Museum offers Escape Aboca Museum as a team event too?
In this case the number of participants for each team is larger (up to 7-8 people per team), and if it is not already scheduled as part of the Aboca Museum event plan, it can be organised upon reservation for schools, birthdays, corporate and team building events by calling 0575 750000 to agree on the date and arrangements.
---