SAVI Gaetano - Italy - 1769 - 1844
---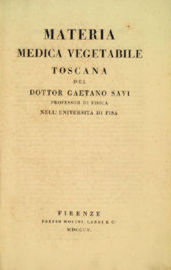 Gaetano Savi, after receiving his degree in medicine, took such a keen interest in phytotherapeutic studies that he became a teacher of botany and was appointed as guardian of the Museum of the Botanical Garden of Pisa. His scientific interests ranged from histology to plant physiology.

Main work: Materia medica vegetabile toscana, Presso Lolini, Landi, Firenze, 1805.

Botanical interests: The Materia Medica Vegetabile is an interesting compendium of medicinal plants cultivated in Tuscany, many of which are endemic. Of particular interest are the 60 full-page copper plates of excellent quality. This Author was one of the few Italian authorities and scholars of phytography and this is confirmed by the precision of his images. There are also some rare exemplars of this work colored by hand. Among Savi's principal works are: Lezioni di botanica (1801), Flora italiana (1818), Flora pisana (1798).
---