THUNBERG Carl Peter - Sweden - 1743 - 1828
---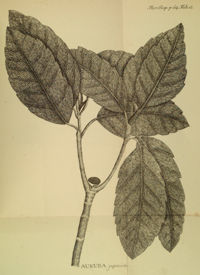 Carl Peter Thunberg, Linneaus' favorite Swedish pupil, became a Doctor in Medicine in 1770 and continued his studies of botany and zoology. A fellowship permitted him to travel and study the botanical gardens, herbals and museums of Leiden, Amsterdam and Paris. In this latter city he had the opportunity to attend lessons in medicine and botany that further fueled his passion. In June of 1775 he traveled to Japan for research. He returned to Europe and in 1783 was named Professor of Medicine and Botany at the University of Uppsala. He died in 1828.

Main work: Flora japonica, 1933 (reprint dell'edizione del 1784, Lipsia, Muller)

Botanical interests: 18th-century Japan was a land closed to foreigners except for Dutch Protestant merchants. Japanese flora was in large part unknown. In order to pass as Dutch, Thunberg had to learn the language. He traveled, as a surgeon, for a dispatch company with the assignment of collecting plants for the botanical garden of Amsterdam. Accompanying another Dutch delegation as a scholar of medicine he was even able to meet the Emperor and his personal physician. This acquaintance helped him greatly in his research. Thunberg was a prolific writer. He published over 150 works between scientific journals and books as well as 293 lectures for students. His most important works are Flora Japonica (1784) and Flora Capensis (1807-1813).
---