Blown glass, gleaming and malleable, has always been used to make pharmacy equipment, including numerous tools for the laboratory
---
---
The sinuosity and brightness of the finds in this room come from the material in which they are made.
Blown glass, gleaming and malleable, has always been used to make pharmacy equipment, including numerous tools for the laboratory.
In this room there are objects such as retorts and phials, distillation tools, but also singular specimens that are far from being purely pharmaceutical instruments: a glass urinal, a collection of glass breast pumps, a collection of cups and tools to practice bloodletting.
Furthermore, a collection of rare medicine cases can be observed, which were used by doctors and apothecaries to carry their precious medicines.
---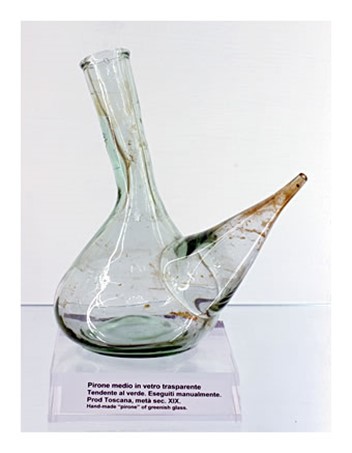 It was not until the II century BC that craftsmen were able to master the blown glass technique which enabled them to manufacture glasswares in various shapes, according to their own need and taste.
Up until then, glass used to be coarsely moulded in the style of hardstones. Glass composition had always been subject to local raw materials supply. Glass was mainly made of quartz sand (up to 75%) whereas alkaline salt (25%), which made sand flux at certain temperatures, came from the ashes of plants such as ferns, seaweed, glasswort and beechwood. The adding of lime and gypsum made it possible for Bohemia to produce "crystal", or Bohemian glass, whereas in Anglo-Saxon countries first the use of potash, then that of lead, ameliorated the compound brilliance.
Towards 16th century Venetian craftsmen's ability reached its top thanks to the adding of manganese to improve the crystal compound. A glassmakers' guild had been existing for centuries in Venice, its principal aim being the safeguard of closely guarded production secrets. Altare was also an important glass production centre from where craftsmen used to set sail for the whole of Europe, and in the late 19th century it was precisely Altare that specialized in pharmaceutics glassware production. 

LEONARDO FROM VINCI AND HERBS
Was told about Leonardo "enemy of alchemists, necromancer and other simple talents" and he fought remedies "made of a kind of alchemy", but he recognized the usefullness to divide herb's extracts "whose mother nature cannot make". He knew and experienced many herbs among which curcuma, aloe, galle, saffron, ghighero, poppy's flowers, cornflower, broom, celandine, mustard's oil, oil's linen , amber and turpentine. 
"A ffare odore: 
Tò buona acqua rosa e mòllatene le mani; di poi togli del fiore di spigo e fregatelo fra l'una mano e l'altra, ed è buono". 
[Codice Atlantico, foglio 807r, vol. III] 

"A rompere la pietra in nella viscica Piglia scorza d'avellano Ossa di datteri e sassifragia, semenza d'ortica, tanto dell'un quanto dell'altro. E di tutte fa polvere sottile, e questo usa in vivanda a uso di spezie. O voi la mattina a uso di siloppo con vino bianco, tiepido. Ancora: sparagi o livertige o cocitura di ceci rossi". 
[Codice Atlantico, 729v, vol. III] 

"Il fumo detto alloppiativo. Tolli seme di loglio. Riparo: odor'acqua vite in bambagia, olio di dente cavallino, di labbro. Seme e radice di mappello, e secca ogni cosa e fa polvere e 'ncorpora con canfora, ed è fatto". 
[Codice Atlantico, foglio 950r, vol. III] 

"Sciroppo composto di stechade: R[ecipe] Aquarum florum sambucj, endivie, capilven[ere] an. Libr. J, misca. R[ecipe] sy (o 5y) de stichados 3jjj et clarificetur". 
[Codice Atlantico, foglio 1046, vol. III] 

"A ffare profumo: 
Togli acque arzente e mettivi di qualunche odore tu vuoi. Ella lo riserba e tiello in sé".
[Codice Atlantico, 195v, vol. I, pag. 267] 
Scirpus lacustris L. foglio12427r, Codice Windsor
Alambicchi 1113r, Codice Atlantico 
Quercius Robur Rubus fruticosus L. foglio12425r, Codice Windsor
Viburnum Opulus, foglio12421r, Codice Windsor 
Alambicchi 1114a-r, Codice Atlantico Caltha palustris e Anemone nemorosa, foglio 12423r, Codice Windsor